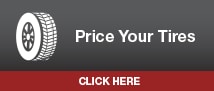 A quality set of tires provides the responsiveness necessary for obstacle avoidance and handling under both wet and dry conditions. When your tires begin to wear down, so does their ability to provide the safety that your Toyota is known for.  If it's time to replace your tires, let the experts at Teague Toyota assist you! 

We strongly suggest replacement tires that meet all of the specifications of your original tires.  At Teague Toyota, we have a large selection of competitively priced tires and we can also mount, balance and inflate your new tires to the recommended levels. 

Please click on the "Price Your Tires" button and send us an inquiry as to what vehicle you drive and what tires you are interested in.  We will respond promptly and with the information you need to make an informed purchase decision.  Visit us in El Dorado at Teague Toyota today!


Hours
Monday

7:30 am - 5:30 pm

Tuesday

7:30 am - 5:30 pm

Wednesday

7:30 am - 5:30 pm

Thursday

7:30 am - 5:30 pm

Friday

7:30 am - 5:30 pm

Saturday

Closed

Sunday

Closed